With an abundance of award-winning attractions, Blackpool has something for everyone. Thrill-seekers can enjoy the thrills and spills of the white-knuckle rides at Blackpool Pleasure Beach, or visit the world famous Blackpool Tower, one of the most loved and recognisable landmarks in the world and home to the famous Tower Ballroom, The Tower Circus, The Blackpool Tower Dungeons and The Blackpool Tower Eye. Also, visit Blackpool Zoo and Sea Life Blackpool, Blackpool Model Village and more! Meet the stars at Madame Tussauds or chill out in 84-degree sub-tropical paradise at Sandcastle Waterpark.
Sandcastle Waterpark is an indoor waterpark in an 84-degree tropical climate located at South Beach in Blackpool, Lancashire, England. It opened in 1986. Over 18 slides and attractions including water slides, fun pools, wave machine, water chutes, burger bars, snack bars, arcades, swim shop and much more!
Blackpool Tower Eye is a tourist attraction in Blackpool, Lancashire, England, which was opened to the public on 14 May 1894. Inspired by the Eiffel Tower in Paris, it is 518 feet tall and is the 120th tallest freestanding tower in the world. Take a trip 380 feet into the sky to the top of The Blackpool Tower and experience the thrilling SkyWalk.
The Blackpool Tower Circus has been providing spectacular entertainment in Blackpool for over 123 years. One of the greatest shows in Blackpool, and beyond.
Dating back to 1894, The Blackpool Tower Ballroom is world famous for its unique sprung dance floor and spectacular architecture and remains to this day a destination for dance fans from across the globe.
Blackpool's Premier Shopping Centre: For the best shopping experience in Blackpool head to Houndshill Shopping Centre. Situated in the heart of the town near some of Blackpool's world-famous attractions and award-winning beaches, it is a wonderfully convenient place to explore a wide range of shops and restaurants.
South Pier is a fantastic day out for those of all ages. The Laughing Donkey family bar hosts great free live entertainment as well as a beer garden with the best views in town.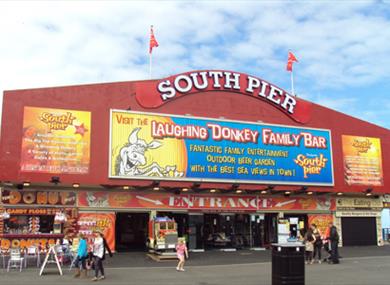 Blackpool tramway: Blackpool was home to the first electric tramway in mainland Britain back in 1885 and the operational fleet is comprised of many different tram cars that have been seen on the Blackpool tramway since the turn of the 20th century. In 2012, a Light Rail system was introduced on the Blackpool Transport to modernise the operation.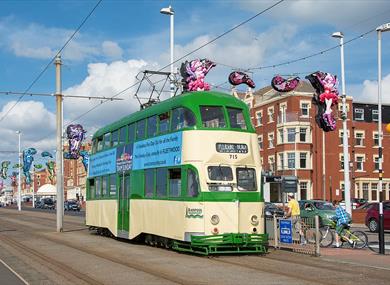 SEA LIFE Blackpool showcasing more than 50 dazzling displays and more than 2,000 spectacular aquatic creatures including tropical sharks, colourful reef fish, octopus, rays and seahorses; Sea Life Blackpool is the perfect way to experience the wonders of underwater life without getting wet!
Blackpool Pleasure Beach Express is a 21 in narrow gauge railway, built in 1933 as a tourist attraction at Pleasure Beach Blackpool, Lancashire. Enjoy a thrilling day out at one of the UK's favourite theme parks! The award-winning Blackpool Pleasure Beach is one of the ideal family days out with some of the most exciting theme park rides, attractions, and shows, matched by outstanding Blackpool promotions.
Comedy Carpet Blackpool; take a stroll where every step brings a new giggle as Blackpool welcomes a brand new floor covering with a difference. Blackpool's brand new Comedy Carpet sits in the shadow of the world famous Blackpool Tower – and it's one of the largest pieces of public art ever commissioned in the UK.
Blackpool Model Village & Garden; Marvel at the many handcrafted models and figures that represent life's rich tapestry and step back in time to those bygone days when life seemed to move at a slower pace, from a Scottish Castle, protected by its ranks of Guardsmen to a tranquil Cornish fishing village.
BEST BITS
Blackpool is a city piled up with lots of attractions, you are certainly spoilt for choice.
Create your attractions itinerary.
Free WiFi on board.
Visit Blackpool in a day, 22 hours to enjoy Blackpool.
Entrance fees are not included.